Jon Loh – Executive Director, Singapore and Hong Kong
Hong Kong, please let us introduce you to Jon Loh, our Executive Director for Singapore and Hong Kong.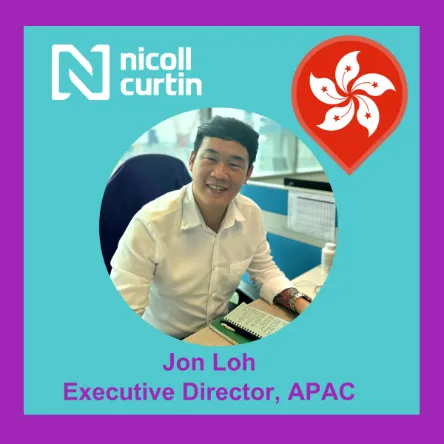 Who is Jon?
Jon joined Nicoll Curtin in 2015 as a trainee, after working across stints in advertising sales, media work and journalism. He studied in the UK and graduated with a 1st Class Honour in Communications. His exceptional professionalism, work ethic, dedication and uplifting spirit oversaw his quick rise to the role of Executive Director of the Singapore and Hong Kong offices.
Jon is entrepreneurial, a forward-thinking and highly empathetic leader. He was praised by the CEO of Nicoll Curtin when his team received the Business Eminence Award Singapore 2022. Neil Clark said, "Jon is a truly inspirational leader who consistently gets the very best from and gives the very best to all of his team. He has created an environment that has allowed our very talented team of individuals to flourish and achieve things they did not think was possible."
The roles Jon's team recruits for
Jon's team in Hong Kong will recruit a variety of roles across technology, change & transformation within the financial services and commercial sectors.
Why you should work with Jon and his team
Jon and his team have taken giant strides with the Singapore business, broken records year-on-year and received industry awards over the three years since he has been in charge. He is excited by the competitive and vibrant Hong Kong market, while a focus on expanding the business is necessary after the amazing success Singapore has seen. Jon and his team have already established an impressive client list, including Standard Chartered Bank, Barclays, Deloitte, APJ, and HKT/PCCW.
Jon boasts a large team of highly competitive skilled consultants who are energetic, ambitious and are generally fun-loving people. So do get in touch with the Nicoll Curtin Hong Kong team if you want to work with us!
​
Matthew Siu, Lead Principal Consultant
Hong Kong, please let us introduce you to Matthew Siu, our Lead Principal Consultant in Hong Kong.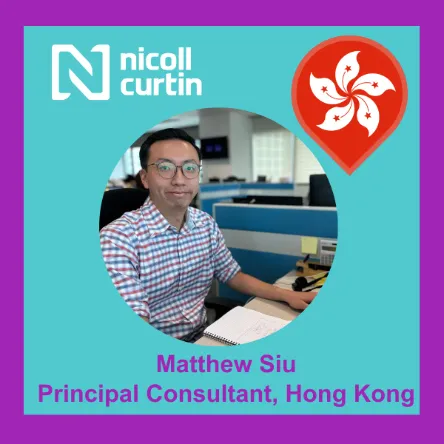 Who is Matthew?
Matthew is from Hong Kong. He holds a degree in Psychology and had always wanted to work closely with people. Having spent his last seven years in the HK recruitment sector, he has now moved to Nicoll Curtin to contribute to the setup of the Hong Kong office. He is passionate about growing the team in Hong Kong and deepening relationships with clients and candidates.
The roles Matthew recruits for
Matthew's specialised verticals are in Software Development and Projects & Functions. He will recruit permanent positions within financial services and large tech companies.
Why you should work with Matthew
Matthew is driven by the same vision of the tech sector in Hong Kong: growth and realising the high potential in the tech sector of the region.
"The relationships that we build with our network is energising for me. I am passionate on their behalf. I always strive to be extremely efficient, deliver high-quality outcomes and have a transparent communication. I am accessible and all my clients and candidates would know that I will attend to their needs and support their ambitions."
Matthew is looking forward to working with Hong Kong clients and candidates out there!
​
Yuki Cheung – Senior Consultant
Hong Kong, please let us introduce you to Yuki Cheung, our Senior Consultant in Hong Kong.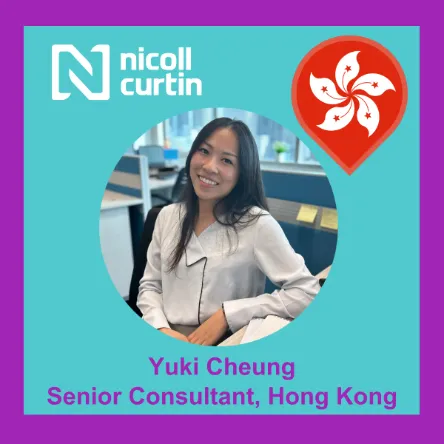 Who is Yuki?
Yuki is a native of Hong Kong. Before starting her successful career in recruitment, she worked in the airline industry. She is no stranger to career changers, as she did this herself at the beginning of the pandemic. She joined Nicoll Curtin in September 2022 to help set up the HK office.
The roles Yuki recruits for
Yuki's specialised verticals are within projects and functions. She will recruit for mostly permanent roles in Business Analyses, Project Management, notwithstanding others in Data Engineering and Digital Marketing and more.
Why you should work with Yuki
Yuki loves recruitment because of that amazing feeling when she finds the perfect candidate for a client and sees the life changing new steps her candidates take.
When talking about candidates, Yuki says:
"I am always friendly with candidates. I would like to know their situation, help identify opportunities, support their important life decisions and contribute to their success. When I share my suggestions and the candidates appreciate it, I feel like I am doing something right in my job."
And for the clients, they can absolutely rely on Yuki's ambition for a fast and high quality service.
"I am responsive to my clients and am motivated to find perfect candidates only. We have a lot of resources, great databases, networks, and connections. The Hong Kong job market is likewise facing a talent crunch and clients can count on us to grow their business with the right people."
Yuki is looking forward to working with Hong Kong clients and candidates out there!
​
Jennifer Lee – Trainee Consultant
Hong Kong, please let us introduce you to Jennifer Lee, our Trainee Consultant in Hong Kong.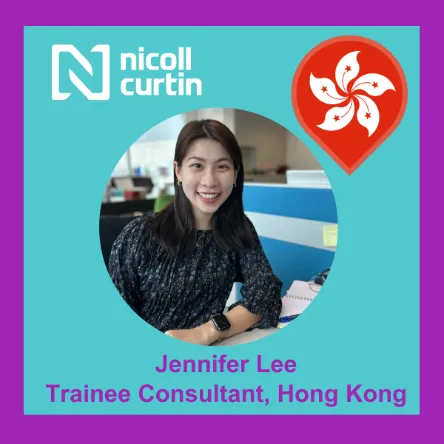 Who is Jennifer?
A native of Hong Kong, Jennifer obtained a degree in International Relations in Australia before receiving a master's degree in the same field in Singapore. During her undergraduate period, she interned in Hong Kong with a financial services recruitment firm. This is when she fell in love with it, decided to continue her career in a global recruitment company and joined Nicoll Curtin Hong Kong in October 2022. She plans to stay in recruitment for a long time and one day lead her own team in Hong Kong.
The roles Jennifer recruits for
Jennifer will recruit roles in Software Engineering and System Analysts.
Why you should work with Jennifer
Jennifer finds her verticals, the coding and programming world and the languages they use very exciting. She is motivated by the opportunities and the competitiveness in Hong Kong's tech sector. She loves that recruitment widens her horizons by offering the opportunity of working with a diverse group of stakeholders.
"I am a naturally curious person. Having studied international relationships in multiple countries, I have developed some critical skills while personally connecting with customers and understanding their individual circumstances, I can see the bigger picture and provide macro-level assessments."
Jennifer wants clients and candidates to know that she is responsive and will be there for them at every step.
"I am a diligent and responsible person. I see every candidate as an individual and will try to cater to their preferences and needs in general. I hope that even outside of work we can connect and know each other for long time. And the same goes for clients. With each placement I make, I will work towards building a long-term trusting relationship with the clients."
Jennifer is looking forward to working with Hong Kong clients and candidates out there!