​
Congratulations to our amazing Singapore team
Our Singapore office is awarded with the Business Eminence Awards (BEA) by Dun & Bradstreet Singapore.
The Award celebrates the tradition of entrepreneurship and recognizes the achievements of Singapore companies that are shaping the business landscape in the country over the past year. This is a great recognition for our hard working and innovative colleagues in Singapore. The office opened just over 10 years ago and have built strong partnerships with industry leading clients. The team is going from strength to strength and currently expanding to the Hong Kong market.
Commenting on the Award, the Associate Director & Head of Singapore Office, Jon Loh said: "To be recognised for this Award makes me really proud of how far we have come in our journey. The disruption that we have helped make in our industry, for the past three consecutive years has effectively heralded Nicoll Curtin's coming as a key player for our clients. We will continue to deliver the best talent into our clients with a high-quality customer experience, and we thank everyone for the trust in our service. Well done NC Singapore Office!"
​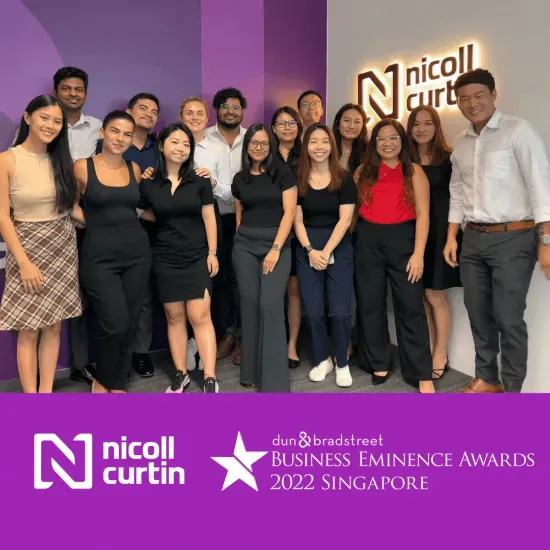 The award-winning recruitment team that Jon Loh has built is hard working, dynamic, and fun, besides being amazingly diverse. People coming from a wide range of backgrounds, including engineering, army, airline industry, hospitality, banking, as well as recruitment; offer different perspectives complimenting each other and create a great team spirit. The CEO of Nicoll Curtin, Neil Clark, praised the leadership of Jon Loh: "Jon is a truly inspirational leader who consistently gets the very best from and gives the very best to all of his team. He has created an environment that has allowed our very talented team of individuals to flourish and achieve things they did not think was possible."
"The team in Singapore display the greatest of our company values, their collaboration and support for each other is amazing. Jon and his team, quite rightly, have won numerous awards for their individual and collective performances and are recognised by their clients as truly exceptional partners."
​
The Business Eminence Awards (BEA) is an initiative by Dun & Bradstreet Singapore and was inaugurated in 2017. It provides a platform to celebrate the success stories of the key movers and shakers in the local business community in Singapore from across all industry verticals.
The Award's primary focus is on business growth and profitability. Its selection model also utilizes qualitative metrics such as corporate social responsibility track records and indicators of business excellence such as corporate governance. The award also celebrates our Singapore team's strong CSR agenda with quarterly events they organise to give back to the local community.
Big congratulations to the Singapore team!
As an award-winning recruitment company, we are always happy to connect with new and experienced recruiters. If you would like to be part of our award-winning team, check out our latest jobs and connect with us to be notified about the future opportunities.
Check out our latest job openings
​